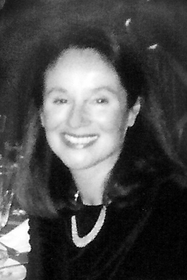 Kathy Fish:   Most of the titles of the vignettes which make up your novel From the Umberplatzen are one word titles.  "Wreath" is one such vignette. Can you tell me why you chose this as your title? It feels to me like the wreaths held different meanings for M. and for Kitty Kat…
Susan Tepper:  Well, you started with a hard question but I will do my best here.  Wreath is a flash-fiction lifted out of From the Umberplatzen.  The book is set in Germany but told mostly in flash-back, after Kitty's return to the States.  Most of the titles were chosen once I completed writing a particular flash.  I would sit a moment and use the first title that popped into my head.  And it seemed correct, appropriate, somehow, doing it that way.
So when Wreath begins, M is telling Kitty Kat (his pet name for her) they should get married; despite her being already married to a guy she left back in the States.  M also suggests they both wear wreaths made of Umberplatzen leaves.  He is a dreamer, whimsical, impetuous, a maker of kites; but he's also a brilliant physicist.  M sees things beyond the realm of the eye.  I think he believed that the wearing of Umberplatzen wreaths for the marriage ceremony would somehow weave them together, too, in a sort of perfect harmony.  The Umberplatzen so essential to their lives, their story.  It's a metaphor or conceit that is used to portray a place of peace.  But Kitty Kat, being the more pragmatic one, is appalled by the very idea of an Umberplatzen wreath on her head, and answers him by saying she could get gnats in her hair.
K.F.  The whole push and pull of their relationship seems brought to a head in this particular vignette as M. asks Kitty Kat to marry him and she reminds him that she's already married. They seem, throughout the book, to be in different places in relationship. I think you contrast this so brilliantly within the dialogue, most especially in this piece. Can you talk a little about your thoughts on what makes good dialogue and what dialogue can do to advance a narrative in general and then about the dialogue in this piece?
S.T. Yes, the push and pull, I felt it throughout the writing.  I think men and women are mostly always at different places in relationship, and that's what makes for so much drama (in life and on the page and stage).
As for dialogue, I made some unconscious choice to have it embedded rather than lift it up in quotation marks.  I think doing it this way, for this story (and the book), helps the reader get closer to the characters.  It's kind of like you get to read their minds and watch them do their thing at the same time.  Because I was an actor from a young age I read a ton of plays.  Dialogue comes easy.  I have to work harder on other elements.  But I think if the writer digs down and gets up close and personal with the characters, the dialogue kind of sings on its own.  As for dialogue moving the plot along— well if they are in the middle of a talk about marriage, and someone suddenly says let's go shopping, that will definitely move the plot in some strong direction.
K.F.  I feel as though the story shifts emotionally in the middle of this piece when M.'s  hopes are dashed and there is the gorgeous line:  "When we met you were all stars."
He says this at the moment where she regrets her dismissal of buying the filmy dress. I am so impressed with how you handle this moment. My question is, did this arise spontaneously from the writing? Because it feels like something that may have surprised you, the writer, too.
S.T.  I was constantly surprised by what these characters said and did, what decisions were made.  It all spilled out of my unconscious.  I, too, love that line (is it OK to love a line you wrote?).  What I love about that line is that this man M saw her as all stars.  How incredibly flattering.   It might be the only time in Kitty Kat's life anyone feels so strongly about her, so that makes the line pivotal.  And again the line came out of the push and pull of that moment.  It's like when someone is saying they love you, and you are denying it for some reason, and you both want to die from the inevitable agony you know is just around the bend.
K.F.  I noticed in Wreath there is no punctuation besides the periods. I think this is true of the whole book. I like it. It contributes to both the flow and the sound of the book and the individual pieces. It's as if, to me, their voices are ethereal, floating, contributing to the aspect of recall. The words may or may not have been actually said, but this is how they are remembered. Also, there are no commas, no pauses, which also lends a certain sound to the book. The first sentence of Wreath is:  "Kitty Kat we should get married."
Then later:  "See said M. This could be our wedding food."
There's a flatness to these statements that I like quite a bit. Not in the words themselves, but somehow, in the delivery. I feel like this was a conscious choice on your part, for this book, and not your style in general. Can you talk a little bit about this? (also, I intentionally put in a lot of commas, here, for the hell of it).
S.T.  Yeah, commas, what the hell!  OK, well, here's the thing. I wasn't aware that Wreath was without punctuation (other than periods).  In the book a few of the stories did get a comma or two. It wasn't a conscious decision. The sentences came from a space in my writing mind that pushes out dialogue, and in this case the dialogue was short and to the point. If I were to analyze my choices, I would say I did this to keep the stories clear on who is doing the speaking, since there are no quotation marks.  Wreath, and every story in the book, is being told from Kitty Kat's memory of what happened between them. And we all know how 'skewed' memory can be, especially after elapsed time, and distance.
Kathy, as for what you say here about my "style in general" I would have to answer by saying the story itself dictated the style.  I felt channeled writing the Umberplatzen stories.
K.F.  Okay, drawing from what you last said: "I felt channeled writing the Umberplatzen stories."
I'm fascinated by this. Writers often say that they feel as if they are channeling something else when writing. Here, you say that you felt as if you, yourself, were being channeled. I want to make sure that's what you meant. If so, who do you feel was channeling you? The two lovers? Were they dictating the story to you? It makes me love the book all the more. Did you ever feel as though you had to override them? Did you ever go, no, that won't work, in the revision process? Or did you trust in the process completely, give yourself over to it? This is often how I write, but I do go back and change things.
Also, "the story dictated the style." This feels right to me as I can't imagine their story being told any other way. So I guess what I'm saying is that everything in Wreath and the book as a whole feels natural and whole. But did you ever doubt this process? Or did it just always feel right to you and you went with it?
ST: Kathy I felt completely at the mercy of my characters and plot. As if they had reached out to me, to tell their story.  There was never any doubt, or any 'thinking'  going on.  I tend not to doubt.  I've had 'writers faith' from my first pathetic attempts at story.  I always thought my stuff was good.  Of course in retrospect I can see how flawed my early stories were.  But back then I thought they were just great.  Ha ha!  Plus I had the encouragement of wonderful writing teachers who gave me the green light.
As for Wreath, and the other Umberplatzen stories, many of the details did in fact come out of 'snippets' of my own real life (like the parakeets Sonny and Cher).  But there was no 'active consciousness' going on during the writing.  There was no revision, except to correct typos or to research a particular date or some details I put into the German language.  On one occasion I asked Jurgen what the beer gardens were called, because that word eluded me.  In the past I spent large chunks of time in Germany.  But each little story came out in the book in its original (first draft) form.  It is mystical, but then again it's not. Why shouldn't there be two characters named M and Kitty Kat living out this life somewhere?  I was happy to breathe life into them on the page, in our realm.  It was a very contented writing time for me.
Read "Wreath" by Susan Tepper
Kathy Fish's short fiction collection  Together We Can Bury It is forthcoming in September from The Lit Pub. Her collection Wild Life is available from Matter Press.