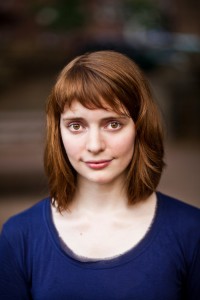 Emily St. John Mandel's new novel, The Lola Quartet, was the #1 Indie Next pick for May 2012. Her two previous novels are Last Night in Montreal and The Singer's Gun. She's a staff writer for The Millions. She is married and lives in Brooklyn.
What is your feeling about having mentors as a writer? Talk about the mentor relationship if you will, its importance to a writer…
I've never had a writing mentor, but I imagine it must be nice to have one. I had mentors when I was a dancer, and they were important to me, so I imagine having a writing mentor must be a nice thing. I've never done any sort of training as a writer, and I suppose I haven't had very much contact with older writers over the years. But like most writers, I've spent a lot of time reading, and I've certainly learned a great deal about craft from writers whom I've never met and who don't know that I exist.
What do you do when you feel stuck or uninspired and does it work to trick the brain into working?
I switch to writing about a different character, or switch from third to first person, or turn to a different part of the story. My novels to date have been fairly non-linear in structure, and I write that way too. Sometimes a change of scenery can be immensely helpful, especially if the change of scenery involves easy access to lattes; it can be helpful sometimes to get out of the apartment and go write in a café for a while. Or sometimes I'll just give it up for the day and go for a walk or something. I'm afraid I'm not quite as disciplined about writing for long hours as I should be.
Suggestions for making characters live?  Do you know who they are before you write or do you find out who they are in the writing?
I don't know who they are before I start writing. I think that for a character to seem real, they have to be both consistent and flawed. They can't be entirely good or entirely evil, because no one's entirely good or entirely evil, and throughout the book they have to behave more or less within the parameters of the personality you've established. If they do something outside those parameters, I think you have to have a good reason why and you have to set it up carefully.
What's the best writer's advice you ever got?
This is such a cliché, but: "murder your darlings." In other words, go through your manuscript and get rid of everything that doesn't serve the book, even if it's your favourite chapter or a character that you love.
Please talk a bit about The Lola Quartet here. Anything related to writing and birthing this book!
Sure. I started it about three years ago, in the spring of 2009. It was around the time when my first novel, Last Night in Montreal, was published. That summer I sold my second novel, The Singer's Gun, and found myself simultaneously promoting the first novel, doing revisions under deadline on the second, and stealing time here and there to write the third. It was such a pleasure when the final draft of The Singer's Gun was turned in and I could finally focus on this book.
The Lola Quartet is a work of literary noir, and is concerned with jazz, Django Reinhardt, economic collapse, love, Florida's exotic wildlife problem, fedoras, and the unreliability of memory. It took about two and a half years to write, which seems to be about average for me. I listened to Radiohead's album In Rainbows a lot while I was writing it, and I think the music affected the mood of the book.
What do you wish people wouldn't ask you about your writing life?
It's sort of awkward when people ask how I come up with my ideas. I have no idea how I come up with my ideas—it just sort of happens—but it's difficult to express this without sounding like I'm trying to be mysterious. I'm not trying to be mysterious.
What is next for you?
Another novel. I'm fighting my way through a first draft. I've also been thinking lately that maybe I should write more short stories.
The Fictionaut Five is our ongoing series of interviews with Fictionaut authors. Every Wednesday, Meg Pokrass asks a writer five (or more) questions. Meg is the editor-at-large for BLIP Magazine, and her stories and poems have been published widely. Her first full collection of flash fiction, "Damn Sure Right" is now out from Press 53. She blogs at http://megpokrass.com.