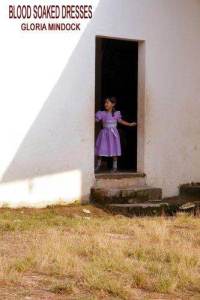 Susan Tepper:  Because it is April (the cruelest month if we are to believe T.S. Eliot) I felt compelled to chat up a poem that involves the earth (soil).  So, Gloria, when you posted this poem that I heard you read at AWP, I knew it was the perfect chat poem for NaPoMo and how I am feeling, too, about the springtime.
We poets do have this intense fascination with death.  Your poem "Every Death Is A Murder" takes death to a whole other level or dimension:  murder.
Gloria Mindock:  Yes, I love true crime and believe I have read every true crime book ever written so far.  I love all the details of the murders I read about and the graphic details of the rotting bodies that are described.  I actually wanted to go into forensic sciences but became a social worker instead.  By reading such books, I gather so much material for my poetry.  One of my favorite books is called "Stiff."  It discusses the rate of decay and so many other interesting details about corpses.  There is a place in TN where they lay out bodies and study the rate of decay.  That is where some of my ideas for this poem came about.
Susan:  Tennessee does that?  eeek… Well, Gloria, I've known you a long time and you never cease to amaze me!  You write:
Dear maggots:

I hope you enjoy the chewing of flesh.  Is 54 years difficult to swallow?
This is morbidly humorous, but it also grabs me in my deeper zones and makes me feel very sad.  Does that mean I'm far too emotional?
Gloria: No, you are not too emotional.  I would hope people laugh at the poem. It is meant to be funny and cynical, too.   I love to be morbid and dark in my writing.  It just comes out that way.   All the time, people ask me, "Gloria, why are you so morbid? You're such a fun person and yet you write such stuff."  This never fails.  The harsh reality is, depending on a person's belief and how they are buried, most of us have maggots waiting for us.  Me, I just have a sense of humor about it.  Yes, it should make you feel sad too.  Death is not an easy thing for any of us to think about and face— our own mortality.
So if the maggots are going to enjoy chewing my flesh, as the poem says, I hope they have a damn good time of it.  And what if all my years on earth are difficult to swallow?  Tough.  It appeals to my sense of humor if the maggots take on my characteristics in the poem.  Your reaction is normal.  You can laugh but it touches a nerve, it seems.  Let it.  I did my job.
Susan:  You give the maggots these little personalities, as if they are little pert things like dancing crumbs in a commercial for paper towels.  Can you see them as you write about them?  If so, do you envision them realistically or in this surreal way they come out in the poem's language?
Gloria:  Yes, I can see them realistically.  With the maggots, I poke fun at them.  Why not?  I always hated the idea of the food chain.  Everything is food for something.  We are lucky that nothing usually eats us to death while we are alive.  But when we die, it is another story.  I'm not crazy about maggots or bugs in general.  I hate them so I have to poke fun at the whole thing.  When I first started writing, my work was more surreal.  I like being able to mix realistic with the surreal.   It's interesting to me as a writer to see where it leads.
Susan:  Why the letter format for this poem?
Gloria:  This makes it easier to address them in a surreal way.  I need to see some sort of vision in order to talk to them.  It helps me let loose and have fun by envisioning a conversation, even if it is one-sided.
Susan:  This is dark satirical poetry at its best.  You write:
Maggots, how many words will you have of mine?
Will I be strong in the Maggot world or
dissolve into weather?  My bones, stuck to the
ground shivering, were crushed by the garbage truck.
Maggots, enjoy your little steak.
Gloria:  Imagining the idea of a maggot becoming a vegetarian and not eating my flesh cracks me up.  My bones being stuck to the ground, crushed by the garbage truck—  these images would not have happened if I didn't see the maggots realistically.  Also what helped is that I remember a disgusting image from years ago when I was hiking in the woods.  There was some sort of dead animal decaying in a bunch of leaves.  I remember seeing all the maggots feasting.  It was gross but sad.  How could I forget this?  Once I see a photo or something really intense, I don't forget it.  I am very sensitive.  It gets stored in my brain.  Sooner or later it comes out in my poetry.  An example of this is the poems I wrote about the atrocities inEl Salvador,Bosnia, Rwanda etc… I write about what the people have gone through by interviewing them, doing extensive research, or by working with the survivors in some capacity. It's intense.  Their stories of survival are horrific, extremely graphic, there has been so much violence.  I try to be a voice for them since they cannot.
Susan:  This letter to the Maggots is the last poem in your stunning book Nothing Divine Here. A most apt poem to end a collection carrying this title.
Read "Every Death Is A Murder" by Gloria Mindock
Monday Chat is a bi-weekly series in which Susan Tepper has a conversation with a Fictionaut writer about one of his or her stories. Susan's new book From the Umberplatzen is a collection of linked-flash published by Wilderness House Press.