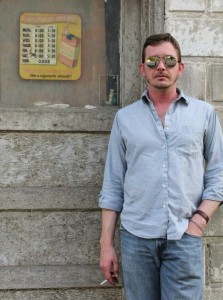 Sheldon Lee Compton just barely survives in Eastern Kentucky. He has five tattoos, all of them on his arms. He once spent a night in jail for taking a road cone from a construction site. He once called Harry Crews and Mr. Crews told him to keep writing and that he loved him. He is the author of The Same Terrible Storm and the forthcoming
Where Alligators Sleep. Visit him at bentcountry.blogspot.com.
What is your feeling about having mentors as a writer? Talk about the mentor relationship if you will, its importance to a writer.
There's a place for mentors, no doubt. But a mentor should be a friend first and a supporter and teacher second and third, I think. I'm still close with several of my teachers (who were actually called mentors) from my MFA days in Louisville, and I hold close to those ties, but in the end we mentor one another in this profession by reading and offering honest feedback. Say what you mean and mean what you say is what I believe. If I've mentored anyone by doing this, then I'm glad. The best thing we can do is return the favor.
What do you do when you feel stuck or uninspired and does it work to trick the brain into working?
At the risk of seeming pretentious, it's been a fair amount of time since I've ran into this situation. For the better part of a year now I've been getting up at 5 a.m. and starting work at 5:30. The truth of the matter is I'm just far too sleepy to take much time thinking and getting into a rut. I just do what I can to get to the work, dive in quick and get started. Writing full-time means my work day doesn't stop until about eight or nine hours later, so there are for sure moments when I hit the wall. I play guitar then, and it seems to break things loose for me.
Are there favorite writing exercises or prompts which you use regularly & will share? 
There's no stretching before these Olympics, but I do enjoy prompts from time to time. Less so lately, as I've moved to much longer stories and have been knee deep into a novel since October.
Suggestions for making characters live? Do you know who they are before you write or do you find out who they are in the writing?
It's hard to say what brings a character to life for the writer, but that's the first step, for sure. The storyteller has to see the character clearly before he can share the experience. My best results have come when I've seen the character in this way and then offered my trust. The writing process is one of discovery for me, and the guide is the character. If you give yourself over to this idea, the character development comes naturally and in a very real way because you're both in it together, trying to make it through to the end.
What's the best writer's advice you ever got?
I've had my share of advice, like most folks, but the bits that have stuck had more to do with writing with my heart. That's not to say in a sentimental way but in a truthful way. Finding your voice as a writer is an early step. Learning to use that voice to convey a story from that perspective means letting your guard down and exposing yourself to judgment and praise, ridicule and high honor.
Please talk a bit about your book Shel. Tell us about it. Talk about anything you would like to here related to the process of writing it.
My current book, The Same Terrible Storm, is a collection of short stories, many of which have appeared in magazines and journals over the past several years. However, through a combing process with Foxhead editor Nathan Adkins, the stories have been strengthened considerably. I can't thank Nathan enough for that. Some of the stories were written as many as six years ago and had been through a lot of drafts before landing in Foxhead's hands. I couldn't have imagined how much there was left to do that could improve them until I started into the editing process. I had nearly given up on nursing anymore truth from the tales until Nathan breathed new life into them. It gave me a headwind when looking at my second collection, improving that book as well.
What is next for you?
I'll have a second collection out from Foxhead in the near future called Where Alligators Sleep and, as I mentioned before, I'm working on a novel called Brown Bottle day to day. In the meantime, I'm working to promote The Same Terrible Storm, making dates for book signings and readings and so forth. But first and foremost I'm just enjoying being here in the world with the people I love.
The Fictionaut Five is our ongoing series of interviews with Fictionaut authors. Every Wednesday, Meg Pokrass asks a writer five (or more) questions. Meg is the editor-at-large for BLIP Magazine, and her stories and poems have been published widely. Her first full collection of flash fiction, "Damn Sure Right" is now out from Press 53. She blogs at http://megpokrass.com.