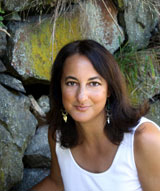 Tara L. Masih is editor of The Rose Metal Press Field Guide to Writing Flash Fiction (a ForeWord Book of the Year), The Chalk Circle: Intercultural Prizewinning Essays, and author of Where the Dog Star Never Glows: Stories (a National Best Books Award finalist). She has published fiction, poetry, and essays in numerous anthologies and literary magazines (including Confrontation, Hayden's Ferry Review, Natural Bridge, The Pedestal, Night Train, and The Caribbean Writer) and several limited edition illustrated chapbooks featuring her flash fiction have been published by The Feral Press. Awards for her work include first place in The Ledge Magazine's fiction contest and Pushcart Prize, Best New American Voices, and Best of the Web nominations.
Thanks for the opportunity to read everyone's work. I avoided nominating people I know (sorry, trying to be fair here), and favored writers whose work impressed me more than once. Some entries disappeared, so I had to nominate a few writers who wrote one or more pieces that caught my eye, based on the writing that remained posted.
Loved the blending of taste and smells, the images of bugs trapped in ice, and the eventual, subtle, sad journey the writer takes us on.
Wildly poetic, inventive images, and an undercurrent of deep emotions.
Refreshing sentence structure and phrasing, strong imagery, and a highly perceptive exploration of male/female roles, with lines like: "I . . . shoveled love onto banks of ice and shrapnel and wars and woe."
Stephen Hastings-King, for both "Dunes"  and "Book of Days" 
I enjoyed watching this writer's mind work its magic in prose.
Masterful.
And this flash story has many artistic moments—Moore takes a theme that's been done before and gives it new life, using strong characterization and poetic perception.
Jane Hammons, "1053" 
In this simple flash story, Hammons captures her character's mental confusion with just a few sparse lines, draws us into the picture, and then finishes with a killer line. Great paired with the photo.
Matt Dennison, for "Failure" 

I liked this writer's careful precision and originality, even with subjects that have been explored many times before.
I have never had a migraine, but I think I know how one feels now … thanks to Moore's skillful dissection.
This writer is on the road to finding a special, unique voice.
Olson does plenty of "gnawing on deep philosophical subjects," with rhythm, satire, and surprising twists and turns. Loved the ghost who snuck in…
Editor's Eye is a new blog series that aims to highlight noteworthy work that might have slipped through the cracks of Fictionaut's automated list of recommendations. Every two weeks, a distinguished visiting editor scours the site for lost treasures and picks outstanding stories.